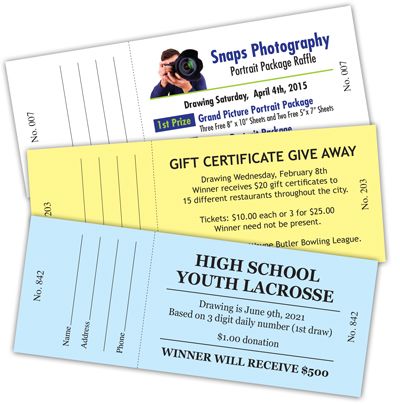 Do you need to raise money for a charity, event, or fundraiser?  Raffle tickets are the perfect way to do so.  
Call for Pricing
Prices are based on:
• 7" x 2.75" ticket size
• Standard stub
• 1 set of numbers
  (1 on ticket, 1 on stub)
• 7 lines of type
• White, blue, green, yellow,
  or gold stock
• Black ink
• Proof within 2 working days
• Completed job in 2 working days after proof approval
Any type changes are an extra cost and add one day to production time!
We can also do 2 sets of numbers per ticket, multipurpose tickets, full color, custom sizes, and booking.
24 hour rush is also available.  Receive your proof within 3 working hours and have your job completed in 5 working hours after proof approval.  Please contact your customer sales representative for pricing and availability.
Prices are subject to change at any time.